Recently, the husband and I took a trip to Kenya over the Eid holidays. We planned the trip over two weeks. After thorough research, reading reviews, speaking to those who've already been to Kenya we found a good agency on Trip Advisor. We booked our tickets, bought our visas online and took the mandatory yellow fever shots for the travel.
For those who don't know this about me- I am a perfectionist!(ugh, I hate saying it out loud). I have a gazillion checklists for anything and everything. So you can imagine how carefully planned and charted was our holiday trip. I packed both our bags, added extra clothes (just in case), medicines from panadol to Gelusil antacid (what if our tummies couldn't adjust to the food) to mosquito repellents and other what-if-something-goes-wrong necessities.
We planned our trip for a period of 5 days, 22nd(Thursday) to 26th(Monday) June. I could barely sleep the night before with all the excitement of travelling to and exploring another country. Thursday morning we were in high spirits, reached the airport on time and checked-in our bags. The airport was crowded with so many holidayers because this time the Eid holidays were clubbed with the summer vacation for the kids, so 70 days of fun (oh joy, sighed the parents!).
While having breakfast at the airport, I received a mail from the tour agency saying that our stay for Day 1 and 2 was overbooked and if they could upgrade us to a luxury camp with no extra charges. I happily bit a big chunk off of my McDonald burger and replied to go ahead with it. "Ah its just keep getting better, Lord. Thank you", I prayed
Our flight took off from Dubai and landed in Oman in an hour at 12 noon for our transit. We got to change flights, quickly boarded and found our seats. Umm…this was a very basic flight- no entertainment units (yes, spoilt) and the scorching sun blanketing our aircraft with its heat didn't help either. To add to this, there was a delay of 1 hour. "Shush..!! Stop complaining Asha!! This will be over soon, and you'll be in Kenya ready to check off your bucket list.", so I told myself.
7 hours later we landed in Kenya. The husband and Google had warned me to be alert always, but at the same time don't act like a tourist because the government officials would otherwise vulture us apart with our documents and bags unless we bribed them. So I put on my "this-is-my-birth-place" look on and marched right into the line for immigration.
Lo and behold, at immigration no official was willing to attend to our line of passengers. A few of them got restless waiting for this abnormity, marched right into the supervisor's room and got things working smooth. Being true to our Indian roots, we followed satyagraha (meaning: non-violent/non-aggressive), moved forward and got our passports stamped.
Next was baggage claim. After we few bags, I saw my bag slide down along the belt. I quickly grabbed it and looked around to see if everyone else started getting their bags. I was secretly proud that mine was one among the firsts to arrive. We waited a while for the next bag. I began to notice that almost everyone from those who had just one duffel bag to a family of seven who had enormous trunks walking away with theirs. The husband checked the other belts and bags on the floor that no one had claimed yet, but didn't find ours. It was easy to be in a state of panic especially being in a foreign country but I tried to remain calm thinking it's just a matter of time.  A few minutes later a government official came up to me and asked if the luggage that I've had taken earlier was mine. I clutched it really tight and answered animatedly that it belonged to me. The lady official trying to behave professionally and not laugh at my tourist-face, kindly told me that there were no more bags left to arrive.
I felt like I heard the worst news, EVER !!!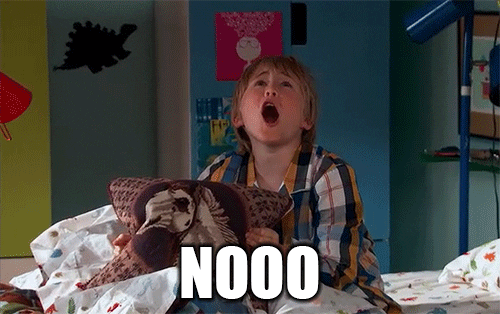 We immediately gave our counter-foil and she scanned to see where our bag was. It was still stuck in Oman!! The next flight to Kenya would be on Saturday night and they could dispatch the bag only on Monday. Okay, that's fine right?
NO!! WE WERE TRAVELLING BACK MONDAY NIGHT!!
We told them to keep our bag at the airport itself. Both of us had a million thoughts and doubts in our heads. But the husband kept a calm and composed face, whereas I was having bizarre monologues in my head.
"Why did this happen?"
"Didn't we pray and leave? What did God have in mind?"
"Was it not His will for us to travel?" 
And the worst thought, "But we're His children, so why us?"
Yes, I am guilty of entertaining all these thoughts.
We took a cab to our hotel in Nairobi. Soon after we checked-in, we sat down to plan what we could do next. The next day we were to travel to Maasai Mara. As told by many, it's not safe to walk around in the streets at night or even the day for any sight-seeing or shopping. So we didn't want to take a risk of doing that. We contacted our agency asking them to advise us on what to do. They were kind enough to agree to stop by a department store on our way the next day. We felt a bit at ease and headed down to the restaurant to have dinner.
There was still a part of me, that felt uneasy. The perfectionist in me was being riled up. We had dinner and soon took to bed.
The next day I woke up feeling guilty for all my questions the previous night but still not ready to speak to God about how I felt. While waiting for our guide, the husband asked me, "what if it was YOUR bag that got lost in transit?". My bag with all my newly bought clothes, makeup, HAIR-PRODUCTS!! I quickly sat down in amazement. What IF it was my bag?
What IF it was my bag?
One- I would have been grumpy for the entire holiday.
Two- It's much easier for men to find something to wear than compared to women!
Three- I am just that materialistic.
And there, I could no longer ignore the prompting of the Holy Spirit to come back and speak to my Father. I opened my backpack, took out my daily bread and diary and opened the Bible App on my phone. I found myself praising God for making this small disruption still easy on us. He was still so mindful of us. He was and has always been there. I confessed profusely for all my thoughts and words. I prayed that from that moment onwards I could and will see God's hand in everything.
Our vehicle arrived right on time to pick us up. We were introduced to our guide Amoses a.k.a Abba. He empathised with our baggage-hassle and told us that everything will be alright. He then pointed at me and said, "It's your duty as a wife to stay calm and happy. If you're not happy, your husband won't be." I stood there smiling but also surprised that he said those words. It was like God coming down in person and reminding me again – "Be joyful, child. I've got it handled!!"
Always be joyful. Never stop praying. Be thankful in all circumstances, for this is God's will for you who belong to Christ Jesus.- 1 Thessalonians 5:16-18
Our drive to Maasai Mara was 5 hours long. On the way, Amoses stopped by a department store and the husband loaded up on some clothes and essentials. Around 1 pm we reached the reserve. The gates opened up to a sight of antelopes, zebras and giraffes grazing. Amoses stopped for a while so that we could take some pictures.
He gave us a briefing about the safari and taught us two words in Swahili to use while on the game drive- Simama(if he wanted us to stop) and Twende( to go if we were done clicking pictures). While driving up to our camp stay, he told us in his loud, deep fatherly voice that he will try his best to show us what the reserve had to offer, but at the end of the day, it is only God who could call out his creations for us to watch and enjoy. It felt so comforting to hear him speak that way and it boosted my dependence and faith in God.
We soon reached out camp- Sarova Mara Game Camp. It was an enormous camp with about a 100 tents. It was just so beautiful. It had a lake with a bridge over it to get to our tent. We were surrounded by trees, grass, birds and even some small animals.
Our tent was amazing. A big comfortable bed, a spacious bathroom and so many other in-house facilities. I sat down in awe on the bed. I had wanted to book this place before hand but we felt it was a bit too expensive and opted for another camp. But just look at it- we were upgraded to this place even before we left the country. God knowing fully well that we would lose our bags, decided to console and pamper us at this camp. How precious are his thoughts for us??
We soon had lunch and got ready for our evening game drive. At first, we spotted a lioness and her cubs and then some zebras, giraffes and ostriches. Amoses soon got word that a leopard had been spotted. He quickly rushed off to catch it before it disappeared into the wild grass. On our drive he told us that leopards were a rare sight to see, they can disappear with a blink of an eye and be lost to spot among the grass. We soon reached the spot. The leopard was cooling itself in the evening breeze. As we stood up to click pictures, I heard Amoses sigh and whisper, "God is good!!". I felt so reassured hearing those words. I found myself praising God out loud for the rest of our trip.

Our next 4 days went amazingly well. We spotted almost all animals, got amazing pictures, our nights were well rested and tummies were fed well. Every evening at dinner the restaurants would have Gospel music in Swahili (I knew it was gospel because it was Swahili version of popular Malayalam gospel songs) and even English ones of Don Moen and Hillsong playing through their stereos. It was soothing to end each day listening to them.
On one day, during the safari Amoses mentioned that he was having terrible heart burn from the cold breakfast he had in the morning. I quickly offered him my bottle of Gelusil (aha! I knew it would come in handy). He had a few sips of it. An hour later he called out, "Dr.Asha that medicine was amazing. Thank you and praise God!". I giggled that I could be of help.
On our last day, we had so much time on our hands as our flight was only at midnight. We asked Amoses if there was anything else we could explore. He told the husband that there was a giraffe centre nearby where you can feed and pet the giraffes. The husband turned back at me to check if I wanted to go but he stopped half way through his sentence when he found me smiling ear-to-ear. "Looks like we're going to the giraffe centre, then!", he said to Amoses.
We had a lovely time there.
Our on our drive to the airport we passed by atleast 10 different churches. On sundays they were packed and overflowing with worshippers. As we got out to collect our long-lost bag, we bid goodbye to Amoses, took a selfie with him and gave him my bottle of Gelusil. He remarked about how we met as strangers but was now leaving as friends and brothers and sisters in Christ. He left us with a parting message to tell our people that sheds with thatched roofs in Kenya are proudly overflowing with faithful gospel receivers.
We soon found our lost bag and a few hours later boarded our flight home- which I must stay was very comfortable one.
I cannot praise God enough for the way He held us so lovingly throughout our trip. We often focus more on God when we are in some unknown place or situation. But we fail to forget that even in our daily, mundane lives God is still so actively playing a part. It can be you travelling to work, getting your grocery shopping done, having a Skype session with your dear ones blessed with a strong internet connection (haha, oh the number of times!), falling safely and soundly asleep at night.
There are a few who often tell me, "Asha, I feel you're just boasting a lot on your blog!". To them I say, God deserves all glory, honour and praise in every area and aspect of my life. I know for sure, that I am nothing without Him. And that's exactly why my blog is called the Undoing- I'm stripped of every earthly praise, deed and thought, and I'm undone when He touches my life every day. There are days when I feel like He is silent, not listening to my prayers but then He waves his hand over me (I may not necessarily receive a blessing in the physical) and I see my eyes open to His doing, revelations and mysteries of this life.
I can never bring God down to my level of thought but then why is He still so actively involved in my life? When is He so mindful of my every need? Why does He try to calm and pamper me when I throw these ridiculous tantrums? It's because God is faithful to His word. He cannot lie to Himself.
If you think you can't feel God's touch in your life, remember that you've always been blanketed by his love:
Look, I have inscribed you on the palms of My hands- Isaiah 49:16
If today you feel alone and helpless, remember:
Be strong and courageous. Do not be afraid or terrified because of them, for the LORD your God goes with you; he will never leave you nor forsake you."- Deuteronomy 31:6
If you feel you're not important enough, read below:
After a period of glory, the LORD of Heaven's Armies sent me against the nations who plundered you. For he said, "Anyone who harms you harms my most precious possession.- Zechariah 2:8
The NIV translation has it written this way: "for whoever touches you touches the apple of his eye"
Just like how my husband made me see things clearly and hearing the continuous praise of God and encouragement from Amoses, alleviated my fears and pushed me further to completely depend on God. That's why it's important to surround yourself with not just positive but people who are filled with godly counsel. Their prayers, wisdom and encouragement can only bless you. People around you can have a huge impact on how you perceive things in life and play a role in moulding you to be a better or lesser version of yourself.
Every day, God has something to teach you and me. It can be a masterclass with some extravagant miracle or it can be a quick crash course of just someone like Amoses reminding you that God is good, all the time.
Uwe na Julai iliyobarikiwa! 😀
(Go ahead and translate it on google :D)
P.S: I'm trying to be more regular with my blog posts. Do let me know how often you'd like them- weekly or monthly and I shall set a schedule. Feel free to comment below your thoughts, doubts, encouragements or even revelations of your own to add to my train of thought. Thank you so much for being such ardent readers of my tiny work.